The PSIW Difference
You are invited to experience the difference at the Plastic Surgery Institute of Washington, one of the finest private plastic surgery centers in the DC area. PSIW is a world-class cosmetic surgery practice located in North Bethesda, just outside of Washington, DC, where our board-certified plastic surgeons use the most advanced surgical techniques, performed in a safe, ethical, and caring manner, in an exclusive, luxurious environment.
---
World-Class Service and Results at PSIW
All plastic surgery procedures are performed in our fully-accredited, outpatient surgery center or in recently modernized Sibley Hospital, by our acclaimed team of board-certified plastic surgeons. Anesthesia is overseen strictly by board-certified anesthesiologists. Our state-of-the-art center was established to provide maximum patient safety and care in our comfortable, private, discreet offices, where we are known to consistently achieve exceptional results for face, breast, body, and skin.
Sophistication and Attention to Detail
The final appearance of a cosmetic enhancement is the direct result of the meticulous care and artistry with which the procedure is performed. Our plastic surgeons are exceptionally talented, performing every procedure with precision and painstaking attention to detail. Beyond the beauty and aesthetics of our surgical work, we provide a superior patient experience, as you may expect when visiting an exclusive spa or luxury hotel.
Leaders and Innovators in the Field of Plastic Surgery
At PSIW, our highly-trained plastic surgeons are leaders and innovators in the field of aesthetic surgery, frequently recognized for their quality work and patient care in the Washingtonian and North Bethesda Magazines. As one of the finest plastic surgery centers in the east, our team of professionals assists both men and women in anti-aging treatments, enhancements for face and body, and provides the latest developments in aesthetic medicine.
PSIW: What We Do.
We have assembled an array of the most effective treatments to assist our patients, surgical and non-surgical.
Aesthetic Surgeries
Facelift:

Our meticulous surgical techniques create results that appear natural, youthful, and rejuvenated, never pulled or out of balance.

Rhinoplasty:

Nose reshaping surgery, to be successful, requires exceptional experience, skill, and surgical technique for a balanced look that enhances the other features.

Revision Rhinoplasty:

When a nose surgery has failed and left you with uneven, under-corrected or over-corrected appearance, our team of skilled plastic surgeons can perform a custom nose revision, one of the most difficult of all plastic surgery procedures.

Brow Lift:

A heavy, sagging brow can add years to your appearance. A brow lift, when performed by the board-certified plastic surgeons at PSIW, restores an open, youthful look, smooth and natural.

Eyelid Surgery:

If you are tired of seeing the signs of age in your eyelids and that telltale droopy appearance, we perform this delicate surgery correctly to refresh and restore, never a wide-eyed, unnatural look.

Ear Surgery:

If nature gave you ears that are misshapen, overlarge, or protruding, we can help you with a customized ear surgery.

Breast Augmentation:

For women who have always dreamed of having a shapelier figure, our skilled plastic surgeons perform breast augmentation surgery that appears natural, balanced, and beautiful.

Breast Lift:

The passage of time or genetics may have left you with breasts that have sunk lower on the chest wall. A breast lift can give you a more appealing figure, with your breasts looking plump, rounded, and youthful.

Breast Reconstruction:

We are proud to work with women who have lost a breast due to cancer surgery, and to help them once again have natural-looking, feminine breasts.

Breast Revision:

A failed breast surgery may require revision, either to reduce or increase size, correct asymmetry, replace older implants, treat capsular contracture or other complications.

Gynecomastia:

Men who live with an excess of breast tissue can undergo surgery to create a more masculine chest.

Tummy Tuck:

The ravages of time, pregnancies, and weight gain and lost can leave the abdomen with excess skin, fat and tissue. For a total restoration and a trimmer figure, a tummy tuck is the ultimate restorative surgery.

Brazilian Butt Lift:

Create a lifted, shapely butt with a Brazilian butt lift, which harvests fat from thighs, waist, or other body area, then transferred to the buttocks to create a rounder, more attractive derrière.

Liposuction:

Our advanced liposuction system gently extracts excess fat to create a more attractive figure.

Mommy Makeover:

A custom procedure that could include breast augmentation, breast lift, tummy tuck, and body sculpting, we help you restore a youthful, pre-baby body.

Labiaplasty:

This is a custom surgery to reshape your most intimate parts to a more attractive, natural, youthful look.

Tummy Tuck After Weight Loss:

If you were left with excess skin, tissue, and fat after weight loss, why not get the most out of your accomplishment? We can help.

Body Lift After Weight Loss:

After bariatric surgery, the body can be left with hanging skin and tissue which can be resolved with a custom body lift.

Arm Lift After Weight Loss:

Tired of hiding your upper arms? Smooth and firm your upper arms with a custom arm lift.

Circumferential Body Lift:

For those with excess fat, skin and tissue on tummy, waist, and back, this surgery creates a smooth, firm look that lasts.

Panniculectomy:

After weight loss or due to aging skin, the apron of droopy skin on the abdomen can be removed to restore a firmer, more attractive look.

Thighplasty:

If you dream of having firm, youthful thighs, free from excess fat and skin, this body reshaping procedure can trim it away.
Non-Surgical Treatments at Plastic Surgery Institute of Washington
Advances in aesthetic science make it possible to regenerate, restore, and rejuvenate face and body without undergoing surgery. We offer a range of the most effective procedures, including:
BOTOX
Dermal Fillers
Hydrafacial MD
CoolSculpting
Laser Resurfacing
Cellfina
Microneedling
GentleMax Pro® Laser Hair Removal
IPL Photofacial
Vein Treatments - sclerotherapy
Visit Our Exclusive Plastic Surgery Center in Washington DC
Our team of board-certified plastic surgeons are recognized for being among the most accomplished in the DC area. Visit with us and discover a unique private practice that is discreet, exclusive, and where you can expect personalized care and attention. Call today.
Take your first step on a journey to a new you.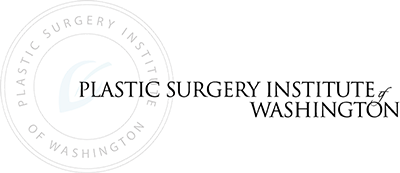 Contact